How is everyone's July going? Its been such a busy few weeks of preparing ahead of our flight to Malaysia, although we still feel in limbo. I was inspired by blogger Zanna Van Dijk to do a detailed itinerary for the countries we wanted to visit. After her sharing it on her stories I had loads of people follow me and request copies of the itinerary.
I spent about a week putting it together, researching things from transport to accommodation, activities and the best food and drink to try in each area. I came out with 7 pages of really great information I had gained from my research.
Just a note that this isn't set in stone and will be highly dependent on how open Malaysia is when we fly in September. The plan has also been based on a backpackers budget as opposed to a more luxury or short-haul holiday although a lot of the activities and food are key things to try in Malaysia whether on a budget or not!
I'll share our planned itineraries for other countries here too and, post visiting, give a more detailed guide with pictures of what we get up to! In the mean time I hope you find this useful and as always any comments or feedback welcome 😊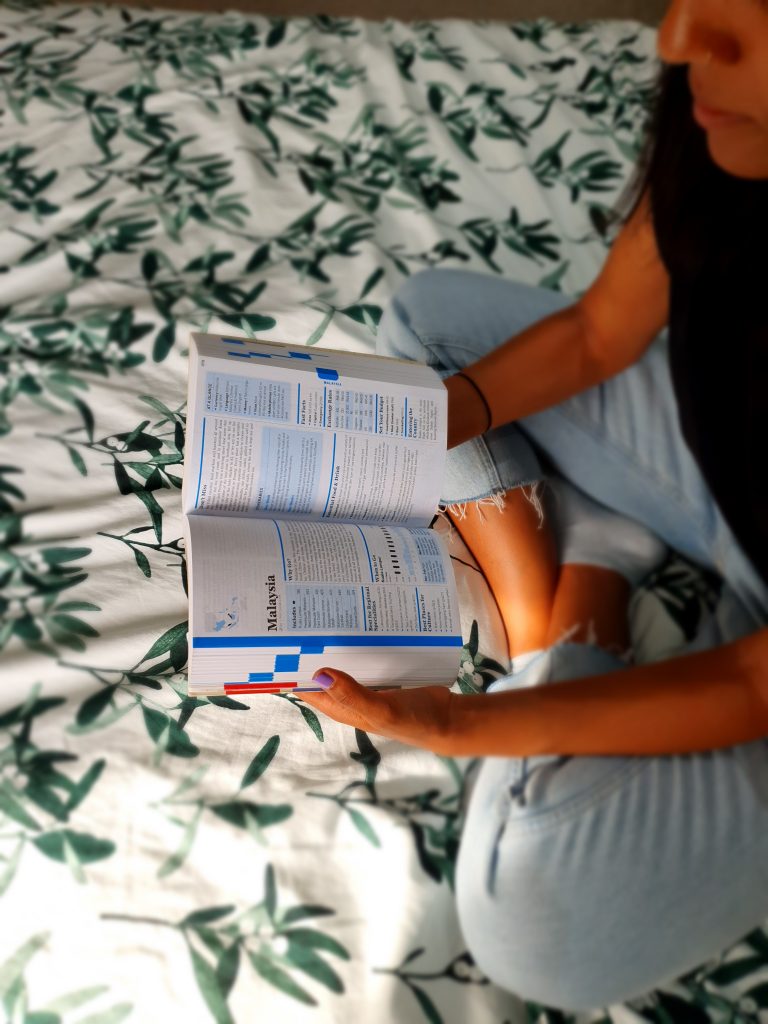 Destination 1: Malaysia September 2020 (4 weeks including Borneo)
1. KUALA LUMPUR – 4 nights OUTBOUND FLIGHT- LONDON TO KUALA LUMPUR (MALAYSIA)
LHR – SIN
SIN – KUL
We booked a year in advance through Singapore airlines and got a great deal. At the moment the airline have given us 2 options if we are unsure about flying: 1. Change the ticket to an 'Open Status' meaning we can re schedule the flight to the same destination up to the 14th September. 2. Get a Full Refund with no charge.
ACCOMMODATION INFO
ACTIVITIES
Batu Caves
Petronas Towers
Central Market
China Town
Brickfields – Little India, Fine Dining and Chic Bars
Sri Mahamariamman Temple – oldest Hindu Temple in KL
Jamek Mosque
KLCC Park
Thean Hou Buddhist Temple
The Golden Triangle is a famous section of Kuala Lumpur that features a range of nightlife, bar, clubs, restaurants, and hotel options. The area spans several streets but the central hub is primarily located in and around Jalan P. Ramlee
Menara Kuala Lumpur,- great views of the city especially at night
FOOD & DRINK
Nasi Kandar – mixed rice with topping
Street food at Hutong – meant to be full of the best street food vendors
Alor Street – great food market best at night
2. PENANG – 3 nightsTRANSPORT
Travel by bus or train – cheapest
Aeroline bus takes about 5 hours – depart from Corus hotel opposite KLCC
09:30 HRS Daily
10:15 HRS Daily
16:00 HRS Daily
ACCOMMODATION INFO
ACTIVITIES
Arulmigu Karumariamman Temple – South Indian Hindu Temple
Batu Ferringhi – more a European tourist destination with resorts and restaurants
Penang Hill – great for walks and hikes
Kek Lok Si Temple – Buddhist Temple
FOOD & DRINK
One of the best places in the world for street food! This article has loads of recommendations, some of the top below
Aasam Laksa – must eat!
Paya Terubong Nasi Lemak – legendary stall selling nasi lemak – only open 4AM – 10AM (closed on Sunday)
CY Choy Road Hokkien Mee – known for its rich and aromatic broth – located along beach street. 7AM – 2:30PM (closed on Monday)
Sister Curry Mee – for true Penang street food – 7:30AM-1PM (closed on Tuesday)
Transfer road roti canai serves one of the legendary roti canai in town – for the best breakfast in town – 8AM-11AM
Greenlane Genting Food Court is one of our most recommended food courts when it comes to food in Penan
3. LANGKAWI – 4 nightsTRANSPORT
Penang Ferry Terminal in George Town, located on the ground floor of the Penang Port Commission building.- Buy a ticket on the Super Fast Ferry Venture, which runs this ferry route. Ferry takes 3.5 hours to get to Langkawi.
Book tickets here
Costs approx. £18-£19
Super Fast Ferry only runs Sunday, Monday, Thursday and Friday at 08:30am
ACCOMMODATION INFO
ACTIVITIES
Langkawi Sky Bridge including cable car
Kilim Karst Geoforest Park
Cenang Beach
Tanjung Rhu Beach
Telaga Tujuh Waterfalls
Eagle Square – more of a photo spot
Island hopping tour or hire jet skis to do your own island hopping
Tour of the Mangroves to see the wildlife
Parasailing
Relaxing at a beach club
Guided bike tour
Pulau Payar (Payar Island) – great for snorkelling and diving
FOOD & DRINK
Temoyang Night Market on a Thursday night – great street vendors selling Malaysian cuisine (a little out of the town centre)
A good option is to visit a pasar malam – a night market. One is held each day of the week in prominent beach towns, such as Pantai Cenang, Kuah and Padang Matsirat. Open from 17:00 until late, visitors can enjoy a variety of authentic and cheap Malay dishes for as little as RM2.
In Pantai Cenang there are family owned buffet restaurants starting from 11am where you can choose your from a range of different dishes
4. PERHENTIAN ISLANDS – 5 nights TRANSPORT
A really long journey using a mixture of ferries, buses and cars
There are direct flights from Langkawi to Kuala Bharu andKuala Terengganu. You can take a flight to either of them. Then, take a bus to Kuala Besut, and a direct ferry from here to Perhentian Island.
ACCOMMODATION INFO
Limited accommodation – maybe stay in a nicer hotel – we agreed to stay in one nice hotel per country
Villamas Perhentian Resort – £219 for 5 nights
Tok Aman Bali Beach Resort – £145 for 5 nights
Stay in a tree house for a night – log cabins are surrounded by forests so that you feel close to nature.
ACTIVITIES
Snorkelling – view turtles, sharks, and beautiful fish along with beautiful corals
Jungle Trekking – where paths lead out to the beach
Beach Hopping – Adam and Eve Beach, Perhentian Kecil Coral Bay
Turtle Observation – The Perhentian Turtle Sanctuary Beach on Basah is one of the best places in Malaysia to see green turtles and hawksbill
Sea Kayaking
Kecil – cheaper food prices but busy
Coral Bay on the Perhentian Kecil is the best place to watch sunsets.
Fire show on Bubu Long Beach
Many places organise movie nights on the beach
Find great arts and crafts souvenirs – Chill Out Cafe & Craft
FOOD & DRINK
Senja is an awesome seaside eatery over Coral Bay to try local cuisine. The meal costs around 11 MYR. Mama's Café, Maya, and Amelia Café are three other great places to check out for relishing food
Panorama Divers Buffet Breakfast is where they serve a huge range of International and Asian breakfast. From classic pancakes to roti canai, savour it all. There is also an option for eggs, cereals, and toast.
Tupai Beach Bar for good alcoholic drinks
We picked Perhentian as it is ideal for backpackers, however this article was really good to give you an understanding of 3 of the best islands to visit depending on the experience you are looking for: Perhnetian, Redang or Tioman.
5. BORNEO – 7 nights TRANSPORT
Best option to fly from KL to Kota Kinabalu International Airport
Route as mentioned in activities below but dependent on the trek dates and diving in Mabul
ACCOMMODATION INFO
Mount Kinabalu: Included in package although may need accommodation for the first night
Accomodation in Mabul also dependent on where we choose to do the Padi course
Selingan, Orangutan Rehabilitation Centre and Gomantong Caves look to be in close distance so accommodation in between ideal
ACTIVITIES
Mount Kinabalu: 2D1N Mount Kinabalu Climb (Budget)
Selingan Islands/Turtle Islands
Orangutan Rehabilitation Centre
Mabul – Diving
FOOD & DRINK
Chinese, Malay and indigenous Bornean influences
Mount Kinabalu – included in package
Laksa
Curry Puff
Kolo Mee
Sarawak Layer Cake
This was so fun to create and I can't wait to go and experience it all! Stay tuned for the post trip blog post. If you would like the PDF copy I have created of this feel free to leave a comment below, send a message through the contact section of the site or DM on Instagram with your email address.